Step #2 of our training is using The Right Rig.
In this quick guide, we'll show you exactly what right we use 90% of the time fishing in still water.
We'll cover every piece in great detail from top to bottom including: line, knots, and tackle.
If you're losing too many fish, or not even feeling them bite, it's time to start using this rig.
IMPORTANT: As with all of our trainings, we make this promise: We'll never sell when we teach.  You should never have to wonder if we're showing a certain strategy because some brand gave us some free stickers.  You can rest assured that you can take the things you learn in our training, and go out and try them with whatever tackle you choose.
Customer Reviews
04/26/2021
Kathryn R.

United States
Very helpful
It's very helpful
12/14/2020
Rick W.

United States
Great rig.
Great info especially when you don't know a lot about cat fishing.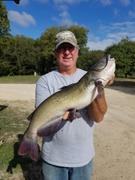 08/12/2020
Ed C.

United States
Good read
Brief, but straight forward. Good to support ya in all your tips and tricks. Thanks
---
You Might Also Like......